FOR IMMEDIATE RELEASE Contact: Amy Levy PR (310) 444-5250
Santa Monica, CA, December 11, 2017… Osteria Bigoli brings diners classic Italian dishes with a contemporary flair by renowned Executive Chef Claudio Marchesan.
The subdued elegance of the restaurant's interior with relaxed lighting and music provides an intimate atmosphere that is perfect for business dinners, family gatherings, birthday parties with friends or romantic evenings for two. There are inventive pastas, roasted meats, sustainable fish selections, grass-fed Angus Flat Iron steak and celebrated Italian classics. The restaurant generously accommodates all dietary restrictions with its gluten-free flavorful pastas, dairy-free entrees and nut-free sweets. With cooking classes and wine pairing events planned for January, the neighborhood gem has gained favor among Santa Monica, Venice and Malibu locals. Actor Denis Leary refers to the Rigatoni Carbonara's short tube pasta, guanciale, white wine and Pecorino Romano, as the "best" he's ever had.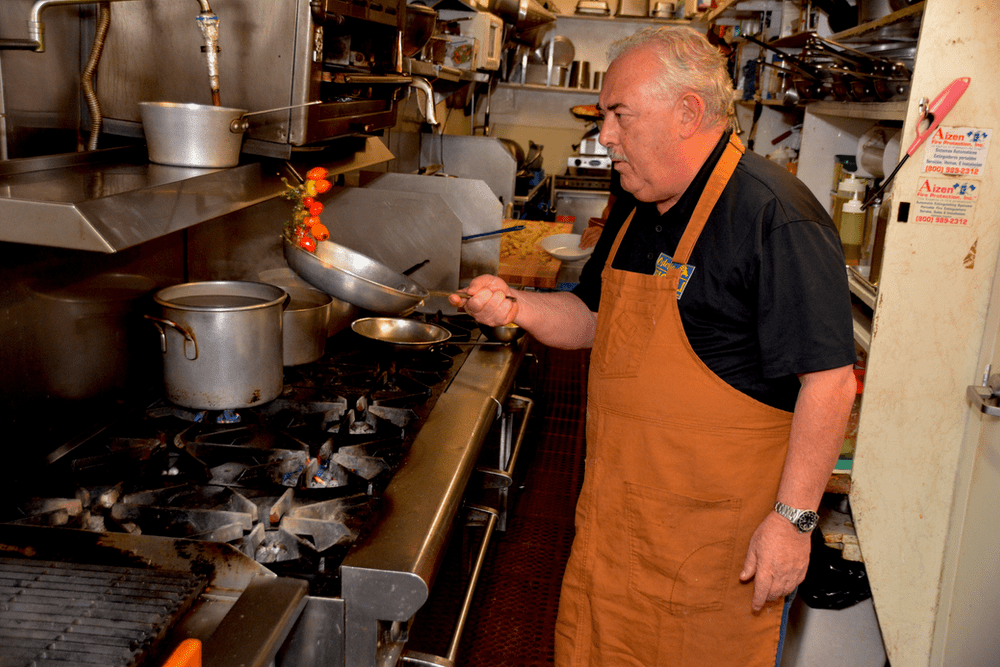 Don't be surprised if Chef Marchesan bursts into song during your dinner, as the Grado, Italy native is also a trained opera singer. He is a true renaissance man; he is a gifted storyteller and many of the paintings on the walls are his. He happily shares tales of his days at the E.N.A.L.C. cooking school where he studied under Chef Giovanni Caruso (pupil of the great Auguste Escoffier).
Start your visit to Osteria Bigoli with appetizers including a salumeria and cheese board for two with premium cured meats, artisan cheeses and marinated vegetables or veal and pork meatballs served "old school" with a rich Pomodoro sauce and fresh parmesan. There is a wonderful grilled octopus served with fingerling potatoes, arugula, tomatoes coulis and mint. LA's creamiest ever burrata comes with pesto, blister grape tomatoes, garlic crostini and slices of prosciutto.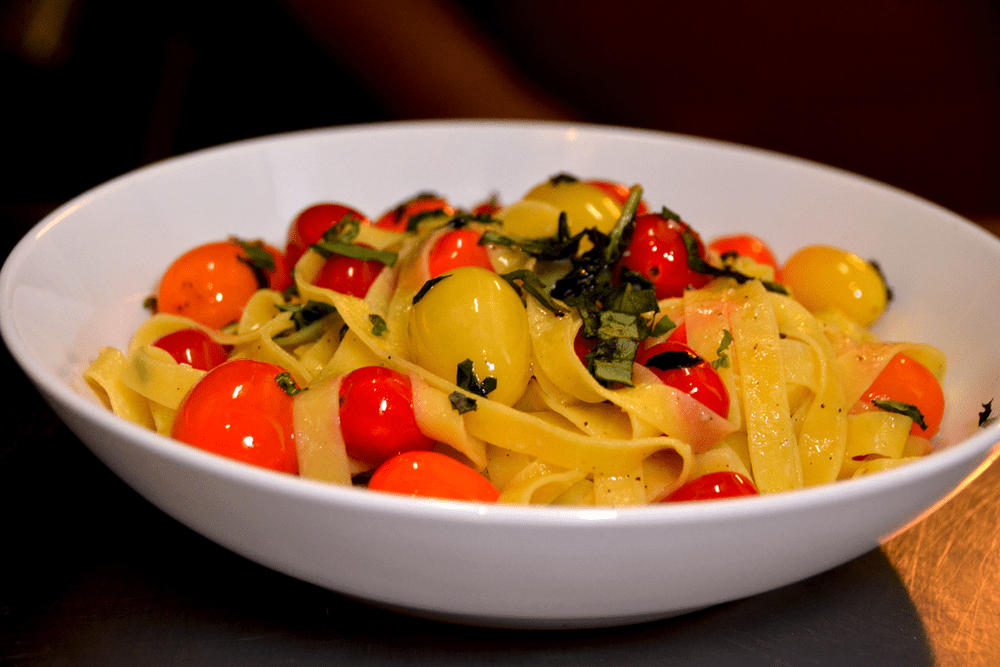 Osteria Bigoli's little gems Caesar salad and the arugula and roasted beet salad with goat cheese, candied walnuts, sweet onions and raspberry vinaigrette are crisp and flavorful. The Lasagna alla Bolognese prepared with a spinach noodle and a delicious béchamel sauce and the "Silk Handkerchiefs" of thin pasta squares with a Genovese almond-basil pesto are not to be missed. The "Saltimbocca alla Romana" features veal loin medallions, prosciutto, sage and roasted potatoes and the Lamb Chops "Scottadito" are quickly grilled and tender. Visit the menu at bigoliosteria.com
Leave some room for dessert, as those with a sweet tooth will be tempted by rich and creamy tiramisu, bread pudding prepared in classic New Orleans style with Chantilly sauce and Buttermilk Panna Cotta, an almond-buttermilk flavored creamy cup with a mixed berry compote.
Fans may know Chef Marchesan from Montecito, California, where he opened Pane e Vino with enormous success. He later launched Pane e Vino in Los Angeles on Beverly Boulevard, which was thought to be one of the finest Italian restaurants in Los Angeles. He had previously been the Executive Chef at Prego Ristorante in Beverly Hills. From 1987 to 1989, he was the Executive Chef for the new company Il Fornaio, with the San Francisco restaurateur Larry Mindel. He took part in the opening of: Il Fornaio Cucina Italiana in Corte Madera, Il Fornaio Del Mar, Il Fornaio Palo Alto and Il Fornaio Levi's Plaza, also in San Francisco.
Osteria Bigoli is located at 714 Montana Avenue, one the tree-lined street that is a few short blocks from the scenic Santa Monica coastline. The restaurant brings Westsiders a dining experience that is modern in approach and Italian in spirit and features a chef-driven menu with dishes that are filled with flavor and history. Osteria Bigoli is a proud member of its community with a keen interest in giving back. The restaurant gives generously to organizations for veterans, children, breast cancer research and the Calvary Chapel.
Osteria Bigoli is located at 714 Montana Avenue in Santa Monica. Reservations may be made on opentable.com. It is open 5:30pm – 10 daily, closed Mondays.
Media Inquiries: For additional information about Osteria Bigoli, please contact Amy Levy PR at 310-444-5250.